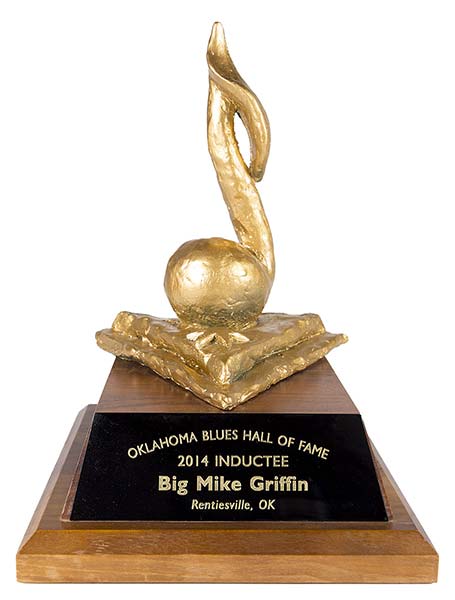 Towering overhead at 6'10", you could easily make a case that there's no bigger blues musician than Big Mike Griffin.
Big Mike comes from a proud tradition of journeyman blues musicians. He has performed on stages across North America and Europe; every place from juke joints and roadhouses to Turner Field and Riverfront Stadium.
Big Mike has also been a biker for more than 30 years. His love of both music and motorcycles spawned a new type of Motormusic that has been widely accepted as a new and exciting form of Blues/Rock.
Born and raised in Lawton, Oklahoma, Big Mike was introduced to music at an early age. "My Dad played so there was always a guitar or fiddle laying around the house. It seems like I've been playing as long as I've been alive."  Later, he began listening to blues artists like T-Bone Walker, Paul Butterfield, and Mike Bloomfield. His blues education was further enhanced by late night highway trips to Texas to catch legends like Freddie King, Albert King, and Albert Collins.
Big Mike started his career as a professional musician in the clubs and honky tonks in southern Oklahoma and north Texas. He haunted the blues clubs in Wichita Falls and the Dallas- Fort worth area early on, as the blues music that came from that area really spoke to him.  He formed friendships with many great bluesmen of the area. Jimmy Vaughn and his brother Stevie were acquaintances as well as peers.
Blues was his first love musically, but to stay working in the music business, he also played country music. In the late 70's he formed the Broken Spoke band. The band's success led him to share the stage with such artists as Hank Williams Jr., George Strait, John Connely, Johnny Rodriguez, Barbra Fairchild and David Frizzell to name just a few. His relationship with those artists ultimately led to his relocation to Nashville. At that time, through his good friend, Warren Haynes, Mike was hired by David Allan Coe to play guitar in his band. He toured with Waylon Jennings, Willie Nelson, George Jones and Neal Young, just to name a few.
At the end of his tenure with Mr.Coe,  Mike left to form a blues band. He was signed to Malaco records in 1992 and released three CD's on that label. In 1997, long time friend and fellow biker John Tubbs partnered with Mike to form Chrome Link Records, which is based in Lawton, with an office in Nashville. They currently have 8 titles on the label.
In 2008, Big Mike starred in the award-winning documentary  "Iron City Blues", which chronicled his creation of a blues song about the most notorious town in the South.  This film received rave reviews in the press, from Biker Magazine, to the European edition of Easy Riders Magazine. In 2014, Big Mike was inducted into the Oklahoma Blues Hall of Fame.
Today, he continues to tour the country, sharing his unique form of the blues with long- time friends and a new generation of fans.